Links to things that have inspired or informed parts of the story.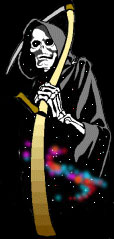 The official U.S. Marine Corps site
Warrior Culture of the U.S. Marines by Marion F. Sturkey
U.S.M.C. Rules of Engagement (humor)

Observation and Description of Evaporite Rocks
The National Mining Association

VICAP-- The Violent Criminal Apprehension Program
Miscellaneous Links
Some pretty useful stuff.
Online Dictionaries and Translators
Welcome to Submission (a site about Islam)
Lexical Freenet -- Connected Thesaurus